Corporate Governance
MANAGEMENT AND CORPORATE GOVERNANCE
Management Reporting Structure
The management and reporting structure reflecting the reporting lines and functional
responsibilities of our Executive Directors and Executive Officers are set out in the chart below: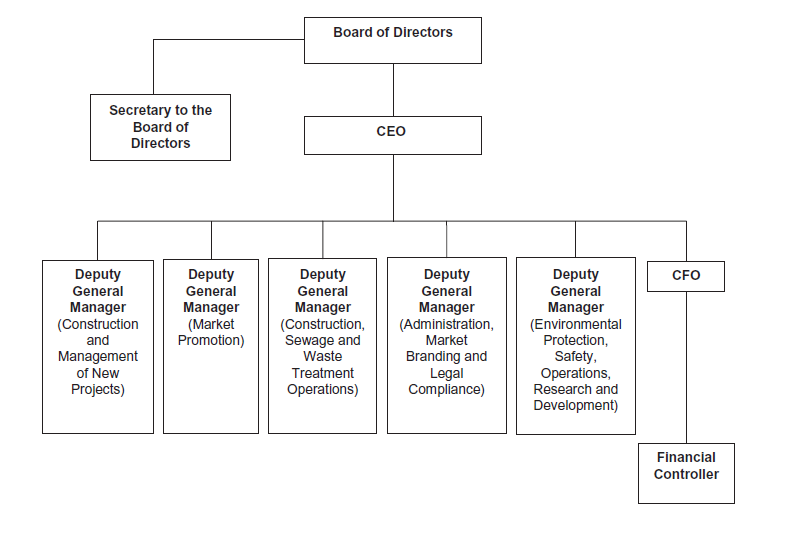 Corporate Governance
Our Directors recognise the importance of corporate governance and the maintenance of high standards of accountability to our shareholders. Our Board has established the Audit Committee
Audit Committee
Our Audit Committee comprises four members, namely Mr. Tan Huay Lim, Mr. Hee Theng
Fong, Mr. Ang Swee Tian and Mr. Roy Edwin Campbell II. The Chairman of our Audit
Committee is Mr. Tan Huay Lim. Our Audit Committee is responsible for:
(a) assisting our Board of Directors in discharging its statutory responsibilities on financing and accounting matters;
(b) reviewing significant financial reporting issues and judgments to ensure the integrity of the financial statements and any formal announcements relating to financial performance;
(c) reviewing the scope and results of the external audit and its cost effectiveness, and the independence and objectivity of the external auditors;
(d) reviewing the external auditor's audit plan and audit report, and the external auditor's evaluation of the system of internal accounting controls as well as reviewing our Group's implementation of any recommendations to address any control weaknesses highlighted by the external auditor;
(e) reviewing the key financial risk areas;
(f) reviewing the risk management structure and any oversight of the risk management
process and activities to mitigate and manage risk at acceptable levels determined by
our Board of Directors;
(g) reviewing and reporting to the Board at least annually (i) the adequacy and
effectiveness of our risk management and internal controls systems, including financial, operational, compliance controls, and information technology controls and (ii) the implementation of risk treatment plans in relation to the foregoing;
(h) reviewing the statements to be included in the annual report concerning the adequacy and effectiveness of our risk management and internal controls systems, including financial, operational, compliance controls, and information technology controls;
(i) reviewing any interested person transactions (including transactions under any general mandate approved by Shareholders pursuant to Chapter 9 of the Listing Manual) and monitoring the procedures established to regulate interested person transactions,
including ensuring compliance with our Company's internal control system and the
relevant provisions of the Listing Manual, as well as all conflicts of interests to ensure that proper measures to mitigate such conflicts of interests have been put in place;
(j) ensuring that the internal audit function is adequately resourced and has appropriate standing within our Company;
(k) reviewing the scope and results of the internal audit procedures, and at least annually,the adequacy and effectiveness of our internal audit function;
(l) approving the hiring, removal, evaluation and compensation of the head of the internal audit function, or the accounting / auditing firm or corporation to which the internal audit function is outsourced (if any);
(m) appraising and reporting to our Board of Directors on the audits undertaken by the external auditors and internal auditors and the adequacy of disclosure of information;
(n) making recommendations to our Board of Directors on the proposals to Shareholders
on the appointment, reappointment and removal of the external auditor, and approving
the remuneration and terms of engagement of the external auditor;
(o) monitoring and approving the exercise of any of the rights under the Non-Competition Agreement by our Group;
(p) monitoring entrusted loan arrangements entered into by our Group (whether as
borrower or lender);
(q) monitoring and approving any lending by our Group to third parties which are not
subsidiaries or associated companies of our Company;
(r) reviewing and monitoring the measures our Group has put in place in respect of the legal representatives of our PRC-incorporated subsidiaries as set out in the section entitled "Management and Corporate Governance—Legal Representative" of this Prospectus;
(s) reviewing the adequacy of and approving procedures put in place related to our
Group's policy for entering into any future hedging transactions;
(t) undertaking such other reviews and projects as may be requested by our Board of
Directors, and report to our Board its findings from time to time on matters arising and requiring the attention of our Audit Committee;
(u) undertaking generally such other functions and duties as may be required by law or the Listing Manual, and by amendments made thereto from time to time.
Apart from the duties listed above, our Audit Committee will ensure that arrangements are in place for employees to raise concerns, in confidence, about possible wrongdoing in financial reporting or other matters for appropriate follow-up action. Our Audit Committee will also commission and review the findings of internal investigations into such matters or matters where there is any suspected fraud or irregularity, or failure of internal controls, or infringement of any law, rule or regulation which has or is likely to have a material impact on our Group's operating results and/or financial position. In the event that a member of our Audit Committee is interested in any matter being considered by our Audit Committee, he will abstain from reviewing and deliberating on that particular transaction or voting on that
particular resolution.